Wet pan mills are designed to be universal milling and mixing machines. The wet pan mill is a sturdy machine, designed to mill and mix clay material and additives. Two big grinding wheels turn on a perforated anti-wear steel grid to crush and break the raw material and force it through the grid with the addition of water if needed. The sizes of the holes in the grid can vary. The uniqueness of the wet pan mill lies in the fact that it combines the work of various machines in a single one: crushing, mixing, and moistening. Output ranges up 40 tonnes per hour.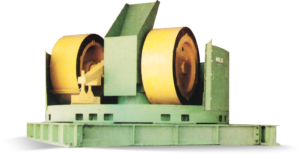 Features
Self-supporting base structure made in two parts compatible with large belt.
Large Grinding area divided into two tracks provide high output.
Central material feeding on the inner grinding track by two feeders.
Large centre section with easily removable runners.
Easily removable wearing frames between grinding plates and base structure.
Central SEW planetary bevel gear unit attached from below.