Clay Crushers are used to crush and crumble large clods of hard clay or shale. The crushing is carried out by two toothed cylinders of steel on parallel axes, which rotate in opposite directions at different speeds and grind the raw material. The controls are mechanical. Feeding reel, frontal discharge, and safety systems against overload are available upon request. The distance between the cylinders can be adjusted during the year to ensure high flexibility in obtaining the desired particle size and to follow the seasonal changes of the raw material's characteristics.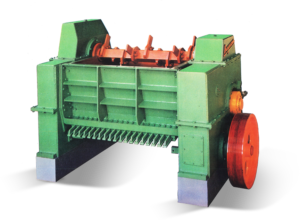 Features
 Output Capacity of 10 to 100 m3/h.
 Electro-mechanical controls.
 Welded structure.
 Knives in spiral arrangement on the roll.
 Knives shaft supported by oscillating roller bearings.
 Adjustable Gap between cylinders.
 Scraper for cleaning the knife disks.
 Feeding reel and frontal discharge available upon request.