Double shaft mixers mix the raw material and supply a homogeneous and sufficiently plastic dough to the feeding line. Mixing is accomplished by the rotation of a series of blades that force the material to move from one side of the large basin to the other, and spread it, thus homogenizing the raw material. The mixture is moistened by a series of pressure nozzles placed at different points of the basin.
The mixing blades can be supplied with a wear-resistant tungsten carbide reinforcement on the external surface, together with a thick chromium plating. The double shaft mixers are available with basins between 2000 and 3000 mm long, with mixing blade diameters of 300-850 mm for outputs of 10–200 m3/h.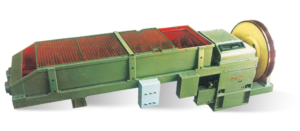 Features
Supporting structure in welded steel.
Interchangeable coatings supplied upon request, such as chrome plating.
Front support shafts equipped with spherical roll bearings.
Mixing blades mounted on a square-section shaft made of welded steel.
Mixing blades in steel with chromium plating and wear-resistant reinforcement in tungsten carbide upon request.
Mixing zone protected by means of a grid.
Gearbox with double reduction, dismountable steel support shafts and helical gears.
Forced lubrication by motorized pump.
Driving pulley with pneumatic clutch.