Roller mills are designed to reduce clay clods into very thin sheets while simultaneously stretching and tearing them by force of the pressure between two counter-rotating rollers. This action causes the mill to break off larger and tougher clods. Multiple roller mills can be utilized in processing lines for a high degree of refining to less than 1 mm. Our range of roller mills includes cylinders ranging in diameter from 800 mm up to 1200 mm with a variable width from 650 to 1200 mm in order to ensure coverage of all production requirements. Mounted Automatic Grinders are also available upon request to ensure perfect maintenance of the shells. Our machines' exceptional sturdiness and reliability, together with their simple maintenance needs, has created great demand for them in the marketplace.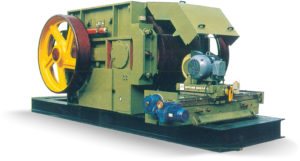 Features
Strict retention of roller gap width.
Hubs in cast iron and tempered (39) steel shafts.
Adjustable Cylinder speed.
Roller cylinders rotate in opposite directions and at different speeds.
High-resistance Shells in nodular cast iron for greater resistance to wear and mechanical stress.
Roller distance: 1 – 3mm.
Mechanical or Hydraulic adjustment of roller distance.
Hydraulic safety system with hydraulic pistons and nitrogen-charged accumulators.
Scrapers in high-strength steel with pneumatic regulation.
Automatic emergency roller stop system in case of accidental opening.
Large SKF or FAG ball bearings.
All components can be accessed externally for easy maintenance.
Safety system with springs against any overloads.
Mechanical or hydraulic cylinder adjustment available.
Isolation pads between the machine frame and foundation.
Laterally adjustable Protection Case for all moving parts.