These machines are a multifunctional system for mixing, moistening, steam-heating, kneading, homogenizing, shredding and stone elimination. In addition to carrying out the usual tasks of Double-shaft mixers, these machines also filter the raw material, separating rocks, roots, and extraneous matter of any kind. Screen mixers employ two shafts with blades, equipped with a series of helices at the end. The shafts rotate in a large basin, wetting and mixing the raw material, and eventually push the mixture through a grid that prevents foreign bodies from passing through. The mixing blades can be supplied with a wear-resistant, tungsten carbide reinforcement on the external surface, together with a thick chromium plating. Double-shaft screen mixers are available with mixing basins of 2000 mm to 3000 mm and with blades and propeller diameters from 300 to 850 mm, and productivity from 15 m3/h up to 130 m3/h.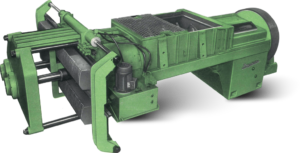 Features
Supporting structure in welded steel.
Interchangeable basin coatings supplied upon request, such as chrome plating.
Front support shafts equipped with spherical roll bearings.
Mixing blades in steel with chromium plating and wear resistant reinforcement in tungsten carbide upon request.
Protection Grid in mixing zone.
Front Grill in steel with chromium plating and wear-resistant reinforcement and with hydraulic control for rapid replacement during operations.
Gearbox with double reduction containing dismountable steel support shafts and helical gears.
Forced lubrication by motorized pump.
Driving pulley with pneumatic clutch.