Box Feeders are used for feeding, dosing, buffering and storing either unprocessed raw materials directly from the quarry, or prepared mixtures with additives such as sand.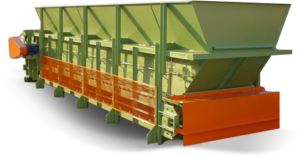 Features
Belt speed control by use of a  frequency converter.
6-8 mm thick steel conveyor belt.
Rubber conveyor belt available upon demand.
Central sliding rollers and steel conveyor supports.
Automated lubricating systems.
Steel supporting beams.
Steel scrapers.
Hopper available upon demand.